What is 'INDIE MUSIC' ?

In popular music, independent music, often shortened to indie music or "indie", is a term used to describe independence from major commercial record labels and an autonomous, Do-It-Yourself approach to recording and publishing (source)
KaskusRadio punya wadah untuk musisi INDIE tanah air unjuk gigi!!

Apakah kamu seorang musisi (solo/duo) yang pengen beken?
or punya band/grup musik yg keren, unik, dan berpotensi?
Udah punya lagu sendiri atau demo lagu?
Gak terikat kontrak ama major label?
Pengen lagu2 kamu dikenal orang seantero jagad?
…ayo gabung di acara…


| Cara ikutan IndieZone | Daftar lagu Indie yang tayang minggu ini |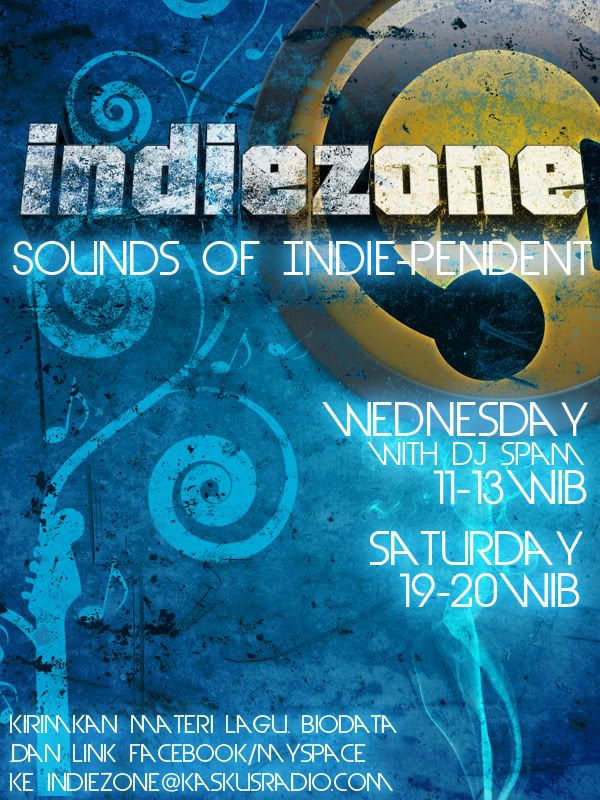 IndieZone participants (in alphabetic order) :
| 4th Avenue | Abu Fawaid | Accoustica | Adventure Ailen | Alien Superstar |
| Alena | Alquent Band | aRah | Aris Munandar Pada Gitar | Arloji Band |
| Bakscherrys | Balek Kampong | Bangkutaman | Biggie | Black 'n' White |
| Black Dit Dot | Black Star | Blavie | Blitz | BOW (Burial of World) |
| Brilliant | Clas's | Clover | compromised EGO | Creative Trash | Cycle Orion |
| Day Of Emergency | De Oranges | De'Mayo | Dead By Gameboy | Dekuliner |
| Discotion Pill | Divided By Zero | DLNZ | Dodie Fantom | Dre4mers | Eclipse |
| Eficaz | Enzo | Excelsis | Eyeliner | EZU | Francisco Arief | Gaim Project |
| Galias | GarisGaris | Graff | Good Reading | Hummingbird | HunHun Bit Project |
| Ice Bar Circus | Jesika | Juke Box | Jump' V | Juni09 | Kamisama | Kashva |
| KM 5 Band | Kresna | Laxira | Locananta | Looping Forever | Mahoney | May Band |
| Midnight Sirens | Monkey Like Money | Motiforline | Neverti | Nuklir |
| Otherside Indonesia | Patricia | Plan | Play-Mates | Project Cyrios |
| Proud Of Freak | Raksasa | Rebin | Relief Band | Recycle B | RussVanProust |
| S'MooD | Sally Flabby | Sasila | Shakalla | Silvery | Sir.5 | Sixtynine | So Pathetic |
| Superfine | Symfofly | The Chronograph | The Clouds | The Cloves And The Tobacco |
| The Jucklee | The KacauGalau | The Khalifah | The Sabil | The Tanza |
| Toy Story | Tujuh Surga | TV Cable | Udara | Upperside |